OZ ON A HOT TIN ROOF

by Anne-Marie Fèvre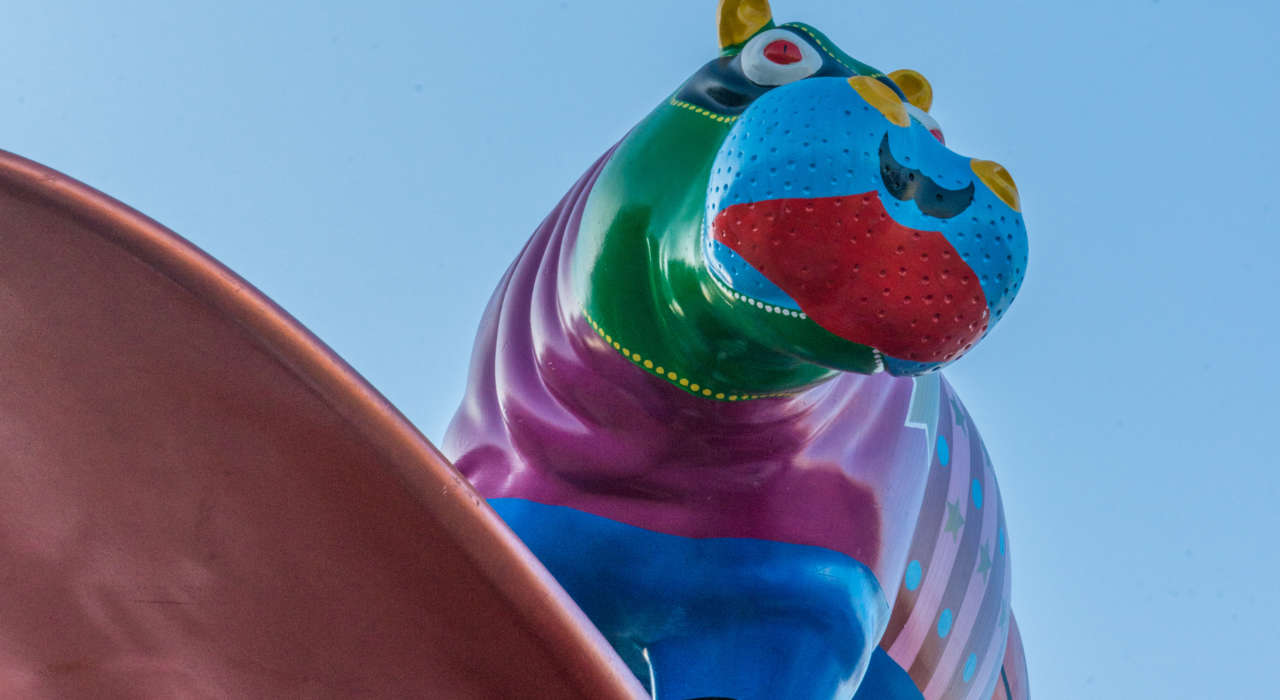 It's not surprising that the Australian Oz brand, already present in the capital at Châtelet, Denfert-Rochereau, and on the Grands Boulevards, should choose this riverside mooring for its fourth crash pad in Paris. Since April 2017, Café Oz Rooftop has been nestling comfortably over 1200 m², illuminated by the kaleidoscopic reflections on the water.
But the Oz on the rooftop is, first and foremost, about a cool, country-Pop, multicultural ambiance that welcomes real beer fans. Metal kegs, earthy wood, corrugated sheet metal, surfboards, and a multitude of colorful objects and images have allowed Jean-François Phily, chef, decorator, and woodworker, to "play around with this feel-good eclecticism, like with the Pop-Art hippo on the roof of the outdoor DJ booth, whom we've named #ozzyharriet." A pointilliste Aboriginal mural created by Callum Robertson, a painter from New Zealand, draws us into his symbolic voyages. These signs are all part of three different spaces: a 500 m² outdoor terrace, the former grotto renamed the "turtle", which can be privately rented, with a bar open to the outdoors, and the main space equipped with another bar and a dance floor.

The "magicians" of Oz are Bernard Weber and Patrick Robert, two fans of Aussie culture. Unlike the other bar/clubs at the Cité, they're looking to attract an eclectic clientele, not focused on any particular "tribe". Here you'll find a mix of the suited and booted, students in sneakers, and families in the early evening hours. Ginger soda drinks, beers, or cocktails from the Red Continent, and burgers, pizzas, or wraps fuel the many matches that are broadcast here, from rugby to cricket…or replenish your strength before you hit the festive dancefloor and immerse yourself in the multigenre beats of their resident DJs, from Ametronik to Mix by Sweet, especially on Wednesdays, for Meow. With this gazebo on the Seine, the Oz adventure, begun in 1992 in France, intends to reach new heights, "to take the name even further, outside of Paris, or maybe even to other countries".
Café Oz Rooftop
34, quai d'Austerlitz,
75013 Paris.

Tél : 01 44 24 39 34


Open daily, starting at 3 p.m. on Monday through Friday, and at 12 p.m. on Saturdays and Sundays. cafeoz-rooftop.fr